Contingency Fee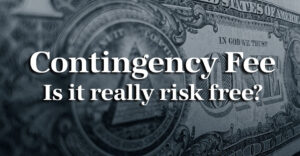 Contingency Fee – Is it really risk free?
If we are handling a case for you, whether it is a workers' compensation claim or a personal injury claim, our law firm works on a contingency fee basis.  This means that there are no up-front costs and we only get paid if you get paid.  In other words, if there is no recovery for you (which is highly unlikely if we decide to represent you), you do not owe us anything.
Now, the contingency fee varies based on the type of case.  In workers' compensation claims, the contingency fee is typically 20%.  In a personal injury case, the fee is typically 33.33% or 40% depending on when the case resolves.  At the outset of any case, you will be asked to sign a representation agreement.  The contingency fee amount that will be charged at the time of recovery will be outlined in that agreement.
When does it Vest?
By its very definition, the contingency fee is contingent upon the receipt of money.  Therefore, an attorney does not get paid until the client is paid.  For example, if an insurance company makes an offer but the client decides to reject the offer, the attorney is not entitled to a certain percentage of the offer.  The attorney is only entitled to a certain percentage of the recovery once it has been paid by the insurance company or the defendant.
Are you entitled to a percentage of my weekly workers' compensation benefits?
If the insurance company is voluntarily paying you weekly benefits in a workers' compensation case, the attorney is not entitled to a fee on those benefits.  So, if you are getting paid benefits, you should not be discouraged to get an attorney.  However, if the insurance company stops paying those benefits during the pendency of the case and your attorney must fight to get those benefits paid to you, the contingency fee would apply to that situation.
Is it really risk free?
No matter how the case is resolved, either by way of settlement, arbitration hearing, or jury verdict, there is no fee unless the client makes a recovery.  So, it really is risk free.  Based on the fact that it is risk free, you should contact an attorney at Woodruff Johnson & Evans to make sure that you are getting all the benefits you are entitled to under the law.
No person who suffers a work injury or is the victim of someone else's negligence should be required to go up against an insurance company on their own.  The contingency-fee agreement allows that injured person to hire an attorney who is there fighting in their corner without having to endure any up-front costs or ongoing fee payments.  Woodruff Johnson & Evans offers its clients true contingency fee agreements and will only get paid if recovery is made in your case.
Categories: